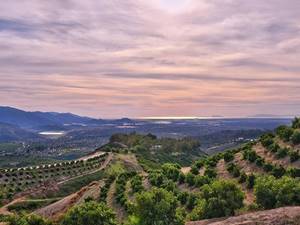 CAMARILLO, CALIFORNIA
With a population of *66,086 Camarillo is located about 12 miles from Ventura in Pleasant Valley at the eastern end of the Oxnard plain. Originally, the Camarillo Ranch was an approximately 10,000 acre Mexican land grant created in 1837, patented to Gabriel Ruiz in 1866, later purchased by Juan Camarillo in 1875. His son Adolfo built the Queen Anne Victorian home in 1892. Later the barn and stables were added to support the agricultural work and house the renowned Camarillo White Horses. Camarillo is primarily a bedroom community with many residences commuting to Los Angeles, Ventura and Santa Barbara. The many residential areas include Santa Rosa Valley, Camarillo Springs, Mission Oaks, Camarillo Heights, Las Posas Estates, Spanish Hills, Sterling Hills and the popular retirement community of Leisure Village. The median home sale price in the Camarillo area is 580,000.
Adolfo Camarillo High School in Mission Oaks and Rio Mesa High School currently serve Camarillo. Rancho Campana High School is being built at the intersection of Lewis Road and Las Posas Road. Cornerstone Christian School also serves Camarillo. Family recreation facilities include The Boys and Girls Club and the YMCA. Organized baseball, football and basketball and the largest AYYYSO soccer league west of the Mississippi are active in Ventura County.
*Population figures are 2013 estimates provided by the U.S Census Bureau. Median home prices are as of Jan,18 2016.
Testimonials
" "Dennis Amick and I have worked together on four business deals. I find him to be honest, knowledgeable, and looking out for my best interests. Whenever I have a money question, I seek information from him. His input is now a must for me in most of my money decisions. He has also helped many of my friends, whom I referred to him, with some of their most difficult money problems. I was lucky to have come across someone like him... honest, dependable, knowledgeable. Shirley M., Ventura County Teacher and Investor" "
- Shirley M
" "I've known Dennis and the quality of his work since I was involved with residential financing in 1985-86. Because he's one of the good guys who takes great care of his clients, when I later wanted to refinance my own home, I went to him and he did the job for me. He delivers--as advertised. That's professionally reassuring when I put my name on the line and refer my Southern California business and investment clients to him for their real estate financing needs." TOM N, VENTURA COUNTY "
- TOM N
" "Dear Dennis, Thank you so much for your assistance in helping us find and purchase our home. We could not have been happier with the service that you provide for us. You made yourself available when we could look at houses and you were always reachable whenever we had a question. After letting you know what we were looking for in a home, a big kitchen and a three car garage, you were able to put together a list of houses that met our request, and you then drove us to our new home. We would (and will) recommend you to family, friends, and anyone else that we hear might be looking to buy or sell a house. Thanks again" HUGH AND ANGIE DYER "
- HUGH AND ANGIE DYER
" "Dennis, I want to express our greatest appreciation for your help in the recent sale of our house on Pierpont Blvd in Ventura. Your knowledge of real estate matters and advice on our 1031 exchange was instrumental in our successful exchange. In addition, the property management of our rental over the years relieved us of many responsibilities. Thanks to you and your staff for excellent service. Robert and Midge Castro" "
- Robert and Midge Castro
" If you're looking for an expert in all things Ventura and real estate, Look no further than Dennis Amick. We live in Los Angeles but own properties in Ventura. Dennis has worked so hard to represent us as both a buyer's agent and as a listing agent. In both transactions, Dennis went above and beyond before and during escrow. We live in Los Angeles, so Dennis has handled everything from coordinating inspections and meeting with contractors during escrow, to meeting with potential renters. . He has an old school approach to doing business, which we really appreciate. Dennis is incredibly knowledgeable and has helped us make informed decisions. His attention to detail and ability to convey information in a timely and professional manner is a real asset for both new and seasoned real estate investors. We couldn't be happier to have found Dennis and will continue to work with him and refer him. "
- Laurie and Jordan K.
" "I've let my family members know that we received a fair price, and that our Realtors, Dennis Amick and Laural Starr of Pierpont Bay Realty in Ventura, did us a great service in this time of economic downturn. With their magic touch, our property sold, while other nearby are still waiting for their special buyers. We were fortunate to connect with Pierpont Bay Realty." note: Now with eXp Realty of California Inc. in Ventura Shirley McCafferty "
- Shirley McCafferty
" I interviewed with 4 brokers before I met Dennis Amick. I chose Dennis because of his knowledge, his positive outlook and his work ethics. He is always there for his people. Dennis is extremely helpful and prompt in returning calls and emails whenever there is a question. Dennis offers as much or as little support as you need. It is a pleasure to work with a brokerage more interested in helping you build your business than asking you to help them build their business for them. Judy Willhite "
- Judy Willhite
" "Dear Dennis, Thank you for finding us such a beautiful beach home in Pierpont Ventura! From the beginning you understood out needs and budget respectfully, whilst showing us a vast amount of properties with very unique qualities. After spending three weeks searching for homes, many with different floor plans, you found us exactly what we were looking for. I apologize if we had you working overtime, however, you were always 100% up for the challenge, and fulfilled any request we made of you. We are very happy and excited to fill our new home with future memories with friends and family. Thank you so much Dennis!" KAREN FINN "
- KAREN FINN
" "I have worked with and Laural Starr and Dennis Amick for years. They are a marvelous husband and wife team. They are ethical, dependable, and knowledgeable. Plus they are honest (a rarity in what can be such a cut-throat business); and they can be depended upon for all your real estate needs. After attempting to sell my condo off and on for years during the sagging market in the past, when it finally started coming back up and the unit below mine sold, I knew just who to turn to when it was time to "strike while the iron was hot!" Pierpont Bay Realty Group was my first and only choice. And boy did Laural get the job done within hours after my phone call. She got my property listed that night and we had CASH buyers within days! Yet that 30-day escrow was no guarantee due to several contingencies, and Laural went that extra mile to be sure that we had all bases covered. Laural is a delight to work with. She was so positive and upbeat throughout that stressful time for me. She really kept my spirits up as she diligently pursued making the sale happen! Laural has connections with all the right people, and took care of everything. She is so supportive and was willing to help with whatever need arose. Well, escrow did close with the cash buyers, and I am so glad I went to Pierpont Bay Realty (Note: Now with eXp Realty of California, Inc in Ventura) to make it happen! Though Laural is sweet, charming, and "cute as a button,"…do not be fooled. That woman is a "pit bull" when it comes to closing the deal (yes she's got the teeth, but doesn't need to bite). She is oh so pleasantly tenacious and kicked butt getting my place sold! Laural Starr is a star, a "Rock Star," in my book. And you can't go wrong with a team like Laural and Dennis. They have years of experience and vast knowledge of our "local" market here in Ventura. And as I said above, they are "trustworthy." I think that alone says it all!! Thank you, Laural, for helping to make my dreams come true!" Pamela B "
- Pamela B
Previous
Next